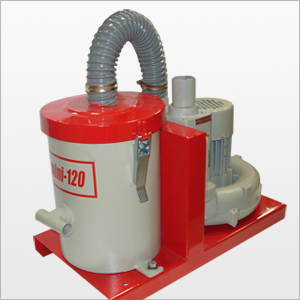 The fixed horizontal base Mini-series offers the same range of motors as the vertical one. These are very ideal for extracting and recovering small quantities of dust or small trimmings. Thanks to their horizontal layout these compact vacuums represent the perfect solution when only limited space is available, especially where height is a problem. Here are some of these models' main features:
FEATURES
a)
Possibility to separate the motor from the container.
b)
Three/Single phase induction continuous duty motor.
c)
Polyester Non-woven high performance filter bags or pleated filters.
MINI SERIES

Model

Mini-120

Mini-170

Mini-200

Voltage

220V/415V

220V/415V

415V

Power (Kw.)

0.37

0.75

1.1

Power (Hp.)

0.5

1

1.5

Vacuum (mmH2O)

1200

1600

2100

Airflow (m3/hr.)

120

170

212

Capacity of reservoir

9 liters

20 liters

40 Liters

Machine inlet

40mm

40mm

40mm